Welcome to Livermore Toyota Rent-a-Car
Let's Go Places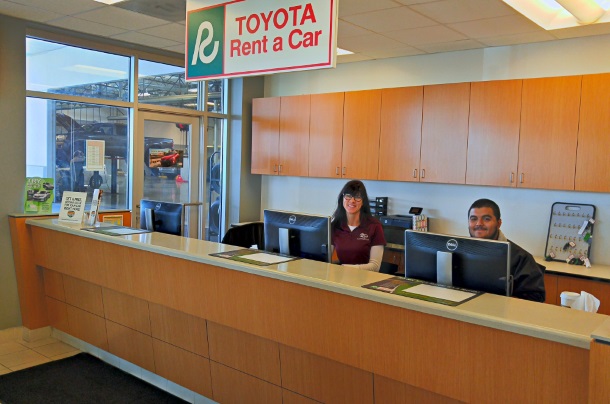 Rental Rates

Model
Weekdays Daily
3-Day Weekend
Weekend Daily
Weekly
YARIS
$26
$60
$20
$156
COROLLA
$35
$78
$26
$210
CAMRY
$39
$90
$30
$234
PRIUS
$42
$108
$36
$252
CAMRY HYBRID
$45
$117
$39
$270
RAV4
$45
$117
$39
$270
AVALON
$55
$147
$49
$330
TACOMA
$65
$177
$59
$390
TUNDRA
$70
$192
$64
$420
HIGHLANDER
$85
$237
$79
$510
SEQUOIA
$95
$285
$89
$570
---
Rent Toyota and you'll never go back. Whether you're headed out of town for a vacation, need a vehicle for business in a new city, or have your current car in the shop, you'll never regret a Toyota car rental. Our vehicles have all the power, sleek curves, and comfort you've come to expect from our brand, not to mention the latest and greatest technology to make the drive that much more pleasant and convenient. It doesn't matter if you want to rent a Toyota car, a spacious SUV, a rugged truck, or a gas-saving hybrid - all that's available and more. Looking for a new car to purchase and not completely sure what kind? Experience the luxury of your Toyota car rental without any of the risks, so you can be sure you select the vehicle that's best for you. Contact a Livermore Toyota Rent-A-Car and discover the appeal when you rent Toyota.

Rental Requirements: Driver(s) must be at least 21 years of age with a valid driver license, have full coverage insurance that transfers to a rental car, and a major credit card. No pets or smoking allowed in the rental vehicle. Additional charge if mileage exceeds 200 miles per day.
*24-hour Roadside Assistance covers mechanical breakdown, fluid delivery, tire changes, jump starts, lockout service, and towing.
---